THE J.W. GAILEY FAMILY This page is dedicated to the John William Gailey Family.

John William Gailey was born to Permelia Jane Tudor and Asahel Lomax Gailey on January 8, 1861 in Bell County, Texas. During J.W.'s life he fathered eleven children which included (in order of birth) Nora (b. 1882), Luther (b. 1884), Loddy (b. 1886), Mary (b. 1888), Letha (b. 1891), Pernia (b. 1895), Cordie (b. 1898), Nicholas (b. 1900), Eva (b. 1903), John William (b. 1915), and Asa Lee (b. 1917). The first nine children were with Mary Ann Ada Bigham (2/19/1865 - 7/14/1904) and the last two were with Leora Moore (6/19/1881 - 5/27/1955).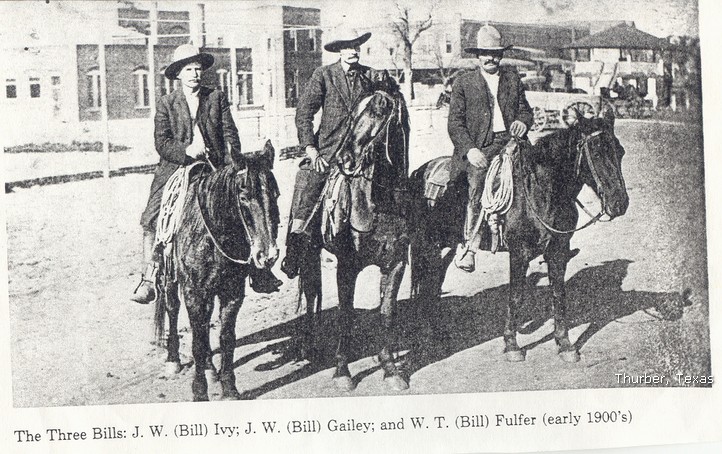 This photo was taken in downtown Thurber, Texas. John William Gailey is shown horseback between Bill Ivy and Bill Fulfer. The "Three Bills" were known for their cattle venture and their supply of beef to the then thriving town of Thurber.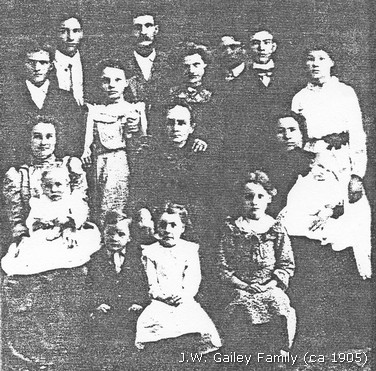 JW Gailey Family in 1905Front L-R: Nick , Cordie, and Pernia Gailey; Second L-R: Nora Gailey Jackcon (Sitting holding Ernest), Grandmother Bigham, Mary Ann Ada Bigham Gailey (sitting holding Eva Eula); Third L-R: Willie Jackon, Letha Gailey, Unknown Female, Unknown Male, Mary Jane Gailey; Back L-R:Luther Elmer Gailey, John William ("JW") Gailey, Loddy Gailey.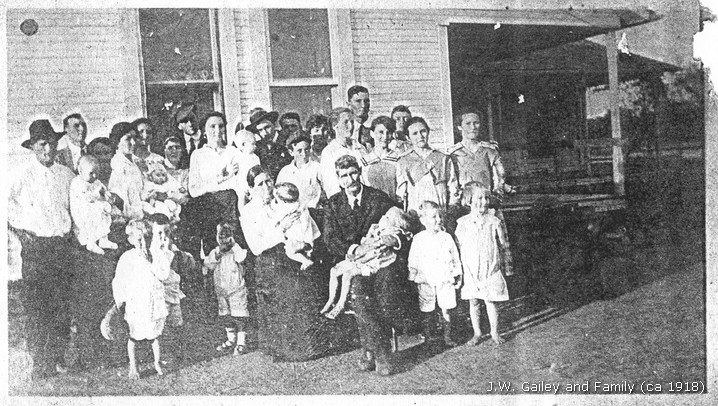 JW Gailey Family in 1918 on Ranch Headquarters south of ThurberThis photo includes on the back and middle rows left to right: Willie and Nora Jackson (Holding Chrystal),Loddy Gailey, Letha Gailey, C.F. Jones, and Luther and Ocite Gailey. Front Row: Leora Moore Gailey (sitting holding Asa Lee Gailey) and John William ("JW") Gailey (sitting holding JW Gailey Jr), and Elmer and Audie Gailey.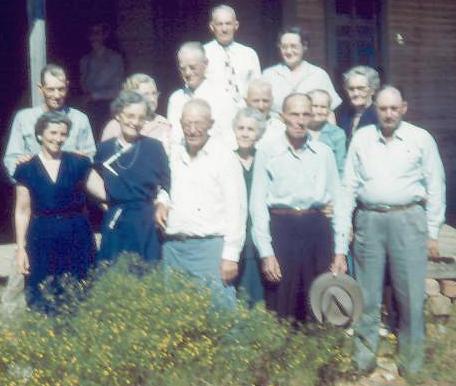 JW Gailey Children Gathering 1955Front L-R: Selma Gailey, Letha Gailey Ivy, Bob Ivy, Cordie Gailey Lee, Dee Abel Lee, CF Jones Middle L-R: Nick Gailey, Ocite Guest Gailey Gregory, Ed Gregory, Willie Jackson, Nora Gailey Jackson, Pernia Gailey Jones Back Row: Loddy and Carrie Gailey